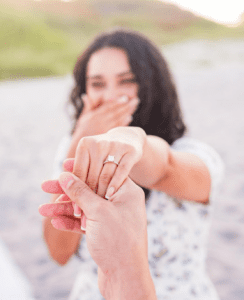 From the moment you say "yes," chances are you'll be rocking a shiny new addition on your left hand. While it may be the last thing on your mind during such a happy time, with great rings come great responsibilities—including engagement ring insurance.
What Is Engagement Ring Insurance?
Definition:
Engagement ring insurance is a policy that is designed to protect you from financial repercussions in the event of physical loss, theft, or damage of your engagement ring. The policies typically extend to all jewellery items submitted to the coverage scope and result in either replacement and repair. Some insurers will offer a cash settlement due to low coverage.
What happens if you lose your ring? If someone steals it? If it gets damaged? You don't want anything to happen to that beloved engagement ring. Whether you've left your engagement ring accidentally behind on the beach, lost a stone while out and about, or had your ring stolen, ring insurance can offer financial protection and peace of mind when you need it most. "If you'd be upset if your ring was ever lost, broken, or stolen, then it's valuable enough to insure," says insurance expert Vicki Kyriakopoulos. "If you think you would be devastated about the sentimental loss, afraid to wear other uninsured jewellery, or unable to cover the cost to replace the item, it would be wise to make sure your engagement or wedding ring is covered by insurance."
While anything that happens to your engagement or wedding ring is heartbreaking, knowing it's properly insured can help to soften the blow. Although no two insurance policies are alike, it can be reassuring to know that you have some safeguards and protection against some of the more harrowing possibilities life throws at you. "Centrestone Jewellery Insurance covers real life with your jewellery," adds Kyriakopoulos. "We realise you can't always pinpoint how or where your items disappeared, so we cover mysterious disappearance, loss, theft, damage, and worldwide travel."
MEET THE EXPERT
Vicki Kyriakopoulos is the national account manager for Centrestone Jewellery Insurance, a company that specialises in providing insurance to jewellery wearers across Australia.
We've compiled a comprehensive guide to engagement ring insurance and asked Vicki to weigh in on what it takes to make sure you'll be able to enjoy your ring for years to come—no matter what life throws at your left hand. Here's everything you need to know about getting your wedding rings insured.
Engagement Ring Insurance Cost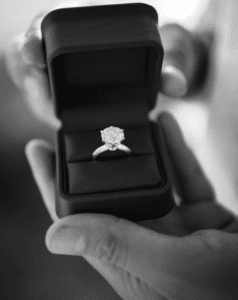 The cost of coverage will vary based on several factors, including the value of your ring, where you live (states charge different levels of stamp duty), and whether or not your policy has any administration fees and excess fees.
Tips for Insuring Your Engagement Ring
Get Engagement Ring Insurance ASAP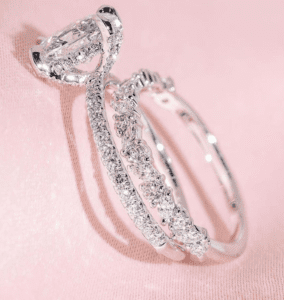 Your soon-to-be fiancé (or fiancée) can insure the ring as soon as it's purchased and in their possession—much like you would insure a car prior to driving it off the lot. You might not initially be thinking of anything happening to your precious and sentimental token, but the sooner it's insured, the sooner you'll be protected. Once purchased, you or your partner can begin to shop for ring insurance providers. Kyriakopoulos notes that the timeline can vary depending on the individual case. Coverage can be provided right away (after the application, appraisal, and sales receipts are submitted) or may take an estimated two to four business days, subject to underwriting review.
Choose a Coverage Provider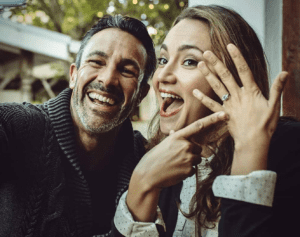 When it comes to insuring your engagement ring (or other valuable jewellery pieces), you have two options. If you have home and contents insurance or renter's insurance, you can purchase an extension that covers your engagement ring specifically. But there is something to keep in mind. "A jewellery claim filed against your home and contents insurance policy could affect your entire policy," notes Kyriakopoulos. "So, if your engagement ring was ever stolen or lost, your premium could go up, or your eligibility for your entire homeowner's policy could be affected at renewal."
If you don't have homeowner's or renter's insurance, you can take out a policy through an independent company that specialises in jewelry insurance, like Centrestone Jewellery Insurance. "We encourage you to trust your home to your homeowner's or renter's insurance specialists and your jewellery to the jewellery insurance specialists," says Kyriakopoulos. Independent companies like these are also worth a look at if your wedding ring insurance provider doesn't offer the specific coverage you require. "Most home and contents insurance policies do cover jewellery to some extent, but, in many cases, coverage is limited by situations covered, requirements to use jewellery replacement companies and coverage value limits," explains Kyriakopoulos.
Be sure to have all of the facts and information when evaluating insurance options, even if you're choosing to add a rider to the current policy. "Call your home and contents insurance or renter's insurance and ask for the details of your jewellery coverage—never just assume you're covered."
Ask the Right Questions
Being adequately informed is important in deciding which insurance option or provider best suits your needs. Make sure to ask a potential policy provider important questions like:
Can you choose who repairs your ring?
Where can you purchase a new ring if you're insured for replacement (instead of a cash payout)?
What happens if a suitable replacement cannot be found?
How will you need to prove the ring vanished if you make a claim?
Are there any circumstances that aren't covered?
Will you continue to be insured when out of the country?
Are you covered for damage or just loss and theft?
Will the policy adjust according to inflation?
What types of repairs contribute to the deductible?
Centrestone Jewellery Insurance Tip:
"Whenever you insure something valuable, the most important thing you can do is understand your policy thoroughly," says Vicki. As you get answers to these questions, you'll better understand which provider can offer the best ring insurance.
The Ultimate Engagement Ring Guide
Get an Appraisal
You can't protect the value of your ring if you don't know its worth. An appraisal will account for all the key elements of value, including carat weight, cut, color, clarity, and quantity of diamonds; types of metal and weight; shape and carat weight of other stones; and any distinctive markings, model numbers, or stamps. Current retail prices in the regional market, the origin of the materials used, and the craftsmanship of the piece are also considered. Most insurance companies will require an appraisal for higher-value pieces (for example, rings worth $5,000 or more), while an invoice or receipt is sufficient for less expensive items.
Centrestone Jewellery Insurance Tip:
"The easiest way to secure a proper appraisal is to do so at the same time you purchase your piece," says Vicki. "It assures that current market prices are reflected and that the distinct characteristics are accounted for."
Get a Diamond Certificate or Grading Report
If your center stone is around half a carat or larger, your jeweler will often provide a diamond certificate or grading report from an independent gemological laboratory like the Gemological Institute of America (GIA), the organization that founded the "4Cs" used to evaluate diamonds: color, cut, clarity, and carat weight. This assessment of quality—while not an appraisal—lists all of the measurements your appraiser will need to make the most accurate determination of value. (This detailed information can also help track down your specific diamond if it's ever stolen).
Make Sure Your Appraiser Has the Right Credentials
Find a reputable appraiser with sparkling reviews, preferably one who holds a graduate degree in gemology and is a member of a national appraisal society. (The GIA recognises these associations.) And make sure that the appraisal value is accurate and not inflated. You might be thrilled when the sparkler that costs your partner $10,000 appraises for double, but you could lose money in the long run. You'll pay a higher monthly premium for a ring that appraises at $20,000.
Remember to Reappraise
The good news is your engagement ring was an intelligent investment. As its value has likely increased since it was purchased, it's essential to have your ring reappraised annually for insurance purposes. Most reputable appraisers will retain a copy of your original appraisal and can work from that instead of starting from scratch (this also helps to cut costs). Just to be sure, bring a copy of your original appraisal if they don't keep records for that long.
Reevaluate Your Overall Insurance Needs
There might be more to consider than just how to insure engagement rings. As soon-to-be newlyweds, you may consider ramping up your insurance coverage to account for expensive or hard-to-replace wedding gifts.
Engagement Ring Insurance FAQs
What is the difference between a premium and a deductible?
A deductible is an out-of-pocket sum you will pay for damages or replacement before the insurance company is involved. The premium is the cost of the insurance, typically billed at a recurring frequency of either annually or (in less common cases) monthly.
Are there any ways to bring the premium cost down?
"The policy is based on individual risk characteristics, and rates are adjusted based on facts collected during the application," says Kyriakopoulos. "There are no set discounts for the policy as any time you change your policy, the premium can refactor." While there may be some opportunities to minimize the cost by reducing potential risk factors (installing a safe in your home, for example), they would need to be discussed with your policy provider.
Can I insure multiple pieces of jewellery?
Of course. You can insure multiple items from the get-go or add new items to the existing policy as you build your personal collection. Your premium will increase with each added piece. You can get your obligation-free quote here.
What if my ring is a one-of-a-kind piece or heirloom?
This will depend on your insurance policy and whether you're insured for replacement or a cash payout. Be sure to discuss such nuances with prospective policy providers before deciding.
What if my ring gets upgraded?
"If a piece of jewellery gets upgraded, the customer must send in a new appraisal with the new item description, so they are properly insured," explains Kyriakopoulos. "If you ever must claim your cherished piece of jewellery, an accurate and up-to-date appraisal is the best way to assure you are properly protected for its full value."